If you have any information about these crimes or any person(s) involved, you are urged to call Crime Stoppers at or submit a Web Tip . You do not have to give your name. CRIME STOPPERS will pay a cash reward of up to $5,000 and you can remain anonymous.
Stafford Police seeking suspect
March 14, 2016
Fort Bend County Crime Stoppers will pay a cash reward for information that leads to the arrest of a perpetrator involved in an armed robbery of a Stafford grocery store.
At about 11 p.m., Monday, Feb. 1, 2016, four subjects entered the Big 9 Food Store, located in the 800 block of FM 2234 in Stafford, displaying a handgun and a shotgun.
Three of the suspects have been arrested by the Stafford Police Department. The fourth suspect has been identified as David Barker.
Stafford Police was told by Barker's mother that she would bring him in, but they never showed.
Barker is a black male, 18, and is 5-feet, 11-inches tall and weighs approximately 165 pounds. His last known address was 3001 Dove Country No. 1004 in Stafford.
Barker was wearing a gray hoodie, blue jeans and tan-colored shoes. He also was wearing black gloves.
Anyone who has information on this crime is asked to call Fort Bend County Crime Stoppers, Inc.
- Call (281) 342-TIPS (8477)
- Mobile App www.P3Intel.com/mobile.html
- Submit Online: www.fortbend.crimestoppersweb.com
Information, which leads to the apprehension and filing of charges on the suspect(s) involved, could earn you up to $5,000 CASH REWARD
All calls to Crime Stoppers are ANONYMOUS
For information concerning this release, please contact the Stafford Police Department at 281-261-3991.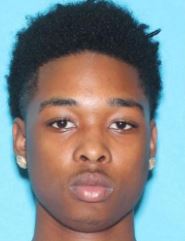 ---